SEO Score
One of SEO's basics is to look into one single page, analyze how it is built for its focus keyword and improve where it may be necessary. Welcome to SEO Score.
SIGN UP NOW!
Forever free
check out our prices and plans
Main benefits:
SEO Score is a tool that will help you with On-page analysis. After you bind keywords to URLs, SEO Score will provide you with a complete analysis of how well such keyword is applied to the given URL. Find out tips on how to improve URLs, meta tags, content and even your server, so your website can achieve better search performance.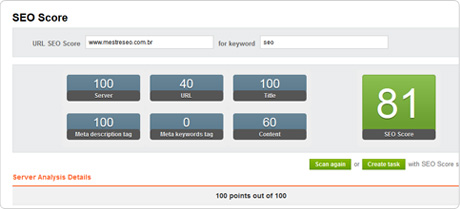 Complete On-page Analysis
In SEO Score you will bind a keyword to a URL and the tool will give you a detailed analysis on every important on-page SEO ranking factor.
Create your account
Sync with Tasks
SEO Score automatically finds out room for improvements and suggests you implement them. All you have to do is click "Add issues as tasks." Right after implementing improvements, just request a new verification and check how that modified the score.
Create your account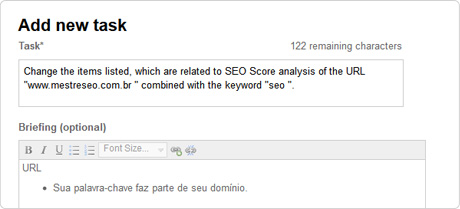 Sign up now for your FREE trial
Fill in the information below. Choose a username and enter your email.
By signing up, you'll get
1 Campaign Management
1 User
Diskspace
10 Keywords
10 URLs
Management of 10 backlinks